A comprehensive branding strategy often includes more than just obtaining a federal trademark registration for a company's name or for one of its products. It can include trademarking the company name, a slogan, product names, and ancillary products. Glock, Inc. has carefully thought through its branding strategy and employed multi-level branding to protect its consumer goodwill in the marketplace.
In addition to registering "Glock" for use with pistols and holsters (U.S. Trademark Registration 1,691,390) Glock, Inc. has developed its stylized 'Glock Perfection' logo which is incorporated throughout its website, manuals, and other materials.
To thoroughly protect its use of the 'Glock Perfection' logo, U.S. trademark registrations were obtained for its use with firearms services (U.S. Trademark Registration 2,440,268) and also for many other promotional and firearms related products (U.S. Trademark Registrations 4,739,078; 4,873,479; and 4,877,156).

Those familiar with Glocktm pistols are aware that the different model numbers all begin with the letter "G". For example, one of Glock, Inc.'s most popular .45 caliber pistols is the G21 and one of its most popular 9mm caliber pistols is the G17. By consistently using the letter "G" before all model numbers Glock, Inc. increases how easy it is for consumers to distinguish its products from others.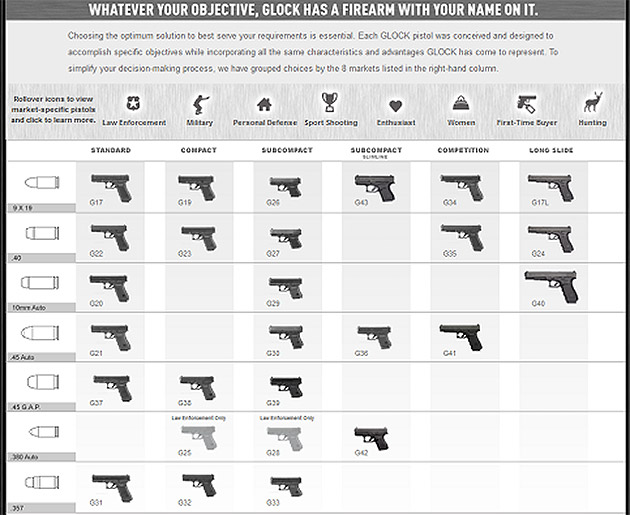 Multiple U.S. trademark registrations have been granted to or applied for by Glock, Inc. to protect each of its model numbers.
Glock Inc. has also applied for U.S. trademark protection for the slogan "Glock Confidence" for use with training tips for men and women.
Glock, Inc. has also registered trademarks for groups that train with their products (such as the "Glock Sport Shooting Foundation"). As is apparent, Glock, Inc. has done far more than just protect its company name. By using multi-level branding paired with U.S. trademark registrations to protect the company name, company logo, slogans, model numbers, and related products, Glock, Inc. has further secured its brand identity in the marketplace. The portfolio of U.S. trademark registrations obtained for all aspects of Glock, Inc.'s multi-level branding makes enforcement of its trademark rights much easier and will also reduce the legal fees associated with stopping improper use of Glock, Inc. brands by competitors.
When designing a trademark and branding strategy for your company it is advisable to take a similar multi-level approach. An additional benefit to thinking about multi-level branding is that it can encourage you to develop consistent themes for your branding, such as the use of the letter "G" in all of Glock, Inc.'s pistol model numbers and the use of Glock as part of additional slogans and logos. Multi-level branding is a good way to increase the return on advertising campaign dollars due to the increased recognition of your products and services.
If you have any questions regarding branding, trademarks, patent planning or other intellectual property matters, please contact Garcia-Zamor Intellectual Property Law, LLC. Ruy Garcia-Zamor has been helping individuals and businesses with their intellectual property needs for over nineteen years.