Six Flags Entertainment Corporation began with one theme park in Arlington, Texas. Six Flags Over Texas opened in 1961 and remains open to this day. In the six decades since the first theme park, Six Flags has spread across the country, and even to Canada and Mexico. Six Flags has had a long and sometimes rocky history, from a number of acquisitions to filing for and then finally exiting bankruptcy. But through all that, they've managed to become one of the most famous theme park chains in North America. They've made themselves distinct through their registered trademarks that protect their brand indicia. 
The "Exclamation Point" Logo
The Six Flags logo is a distinct registered trademark. In between the word "Six" and "Flags", there is a red exclamation point, decorated by six colorful flags. The name of the original park — Six Flags Over Texas — was meant to represent the six countries that had control over Texas throughout history, including: Spain, France, Mexico, the Republic of Texas, the Confederate States, and the United States. 
When people see this logo at a distance or on a billboard on the road, they know a Six Flags park is nearby. It is distinct from any other theme park chain and signals to Six Flags fans that they're in a good place.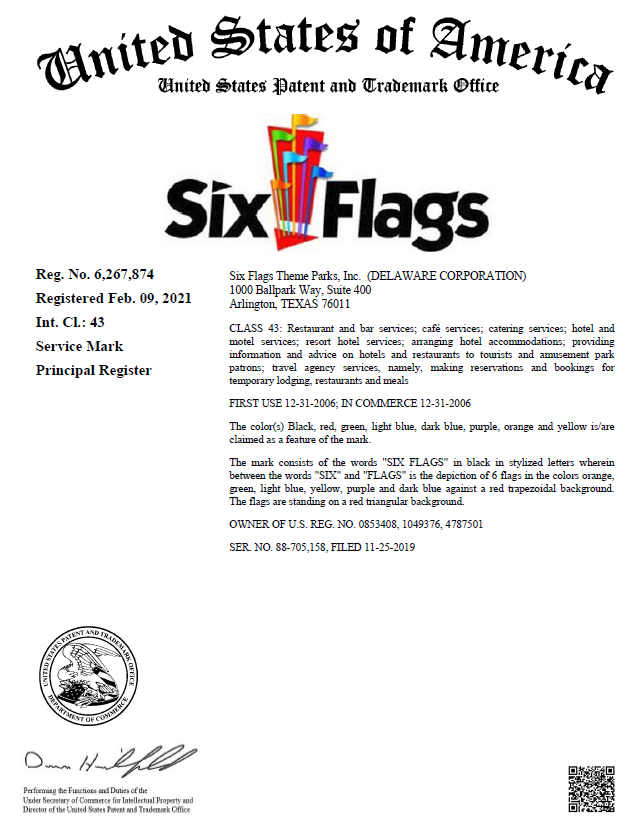 Fright Fest
Every good theme park has a big Halloween event. This is a chance for employees and guests alike to dress up in costume and get a good scare as they explore the theme park. At Six Flags, there's Fright Fest. This includes haunted houses, scare zones, and rides that take on a spookier tone as the lights go down. Each of the haunted houses has a theme so that visitors can curate their own Halloween experience.
Six Flags has patented the name Fright Fest for their Halloween event so that none of the competition can use it. The trademark for the event is similarly trademarked. 
Holiday In the Park
Holiday in the Park is the Christmas/winter holiday event at Six Flags. Parks become decked out in twinkling lights and holiday decor. You can see a host of popular characters, enjoy delicious holiday food, and come home with stockings and Santa hats. Like Fright Fest, the name and imagery for Holiday in the Park are registered trademarks of Six Flags. This means you will not find an event called "Holiday in the Park" at any other theme park.
The branding of Six Flags helps to enhance the excitement of the park and to draw in amusement park lovers. They craft such distinctive branding by registering trademarks. You can do the same with your brand. Contact Garcia-Zamor today to learn more about how our experienced IP attorneys can help you or to schedule a consultation.